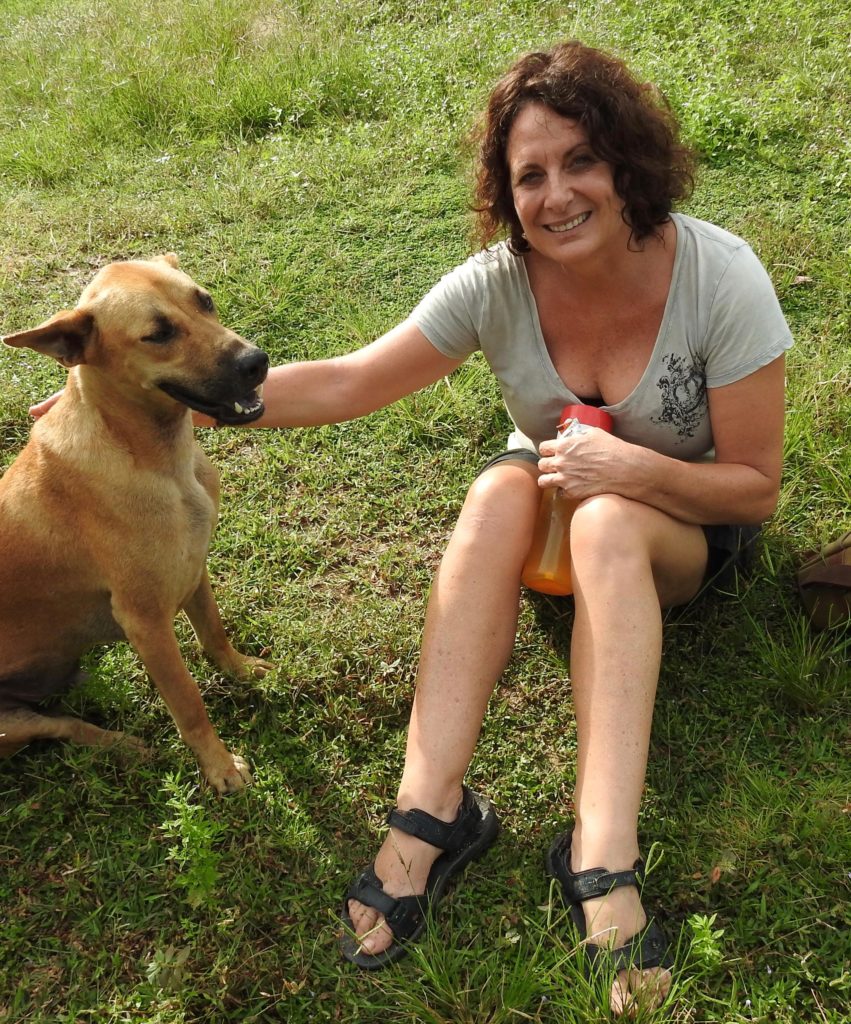 Dr. Trish
Founder / Veterinarian
Hi, I'm Dr Trish.  According to my family, I wanted to be a veterinarian from three years old, but my love (obsession? lol) of animals started before I could walk or talk. I spent much of my childhood rescuing anything I could – injured birds, insects, farm animals I saw when walking home from school -anything. When I was ten years old,  I patiently won over the trust of a  thin and pregnant feral cat until she trusted me to touch and feed her.  After about four weeks, she brought her litter of sick kittens to me one by one. She clearly wanted me to take them and help them, which I did. I have a lifetime of special memories like that.
Over time, my desire has evolved to help people as well as animals.  It is traumatic having your pets unwell, and I am sensitive to how that is.  I hold myself to high standards and research every day to ensure that I am up to date with the most effective treatments; I take the responsibility of caring for your fur family very seriously.  Learning is lifelong for myself and my staff.
I moved to Cambodia because I fell in love with the Cambodian people and their country. Cambodia has had a harsh history; I want to share my extensive knowledge here to improve animal & human health and welfare by providing care, education and resources they don't have access to.  Along those lines, I have started the charity, Eradicate Rabies One Village At A Time (EROVAAT) www.erovaat.org
I have travelled the world extensively and love meeting people of all different cultures and ages and seeing our amazing world.
I am grateful and fortunate to have such an incredible team whom I call my work family.  They are highly skilled in taking blood samples, doing IV's looking after intensive care patients and much more.  I trust them implicitly with my patients; we are overjoyed to have a high survival rate with usually fatal diseases and injuries. We want to get them home to you <3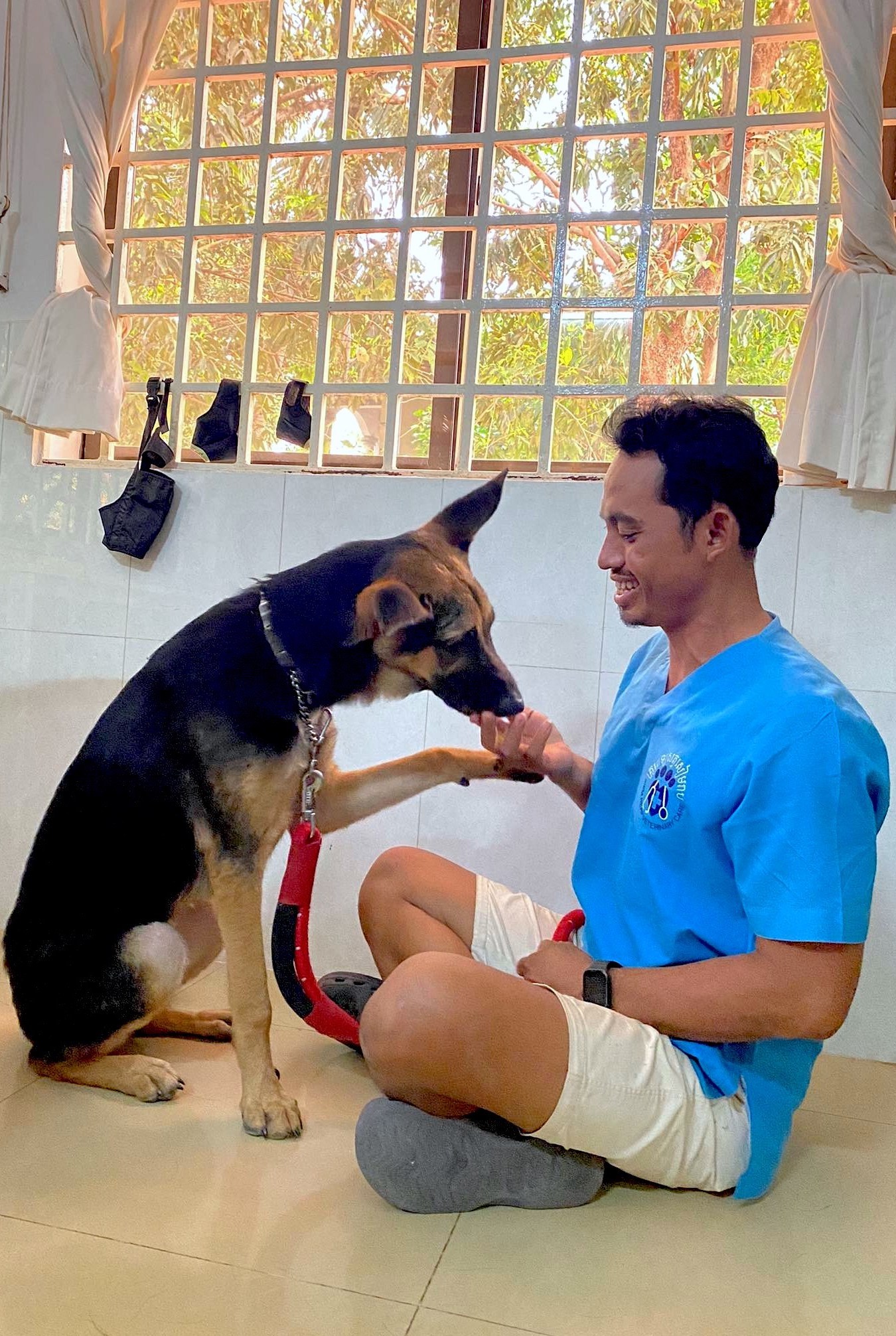 Sary
Vet Assistant
Hi, allow me to introduce myself, my name is Sary and I work as a veterinary assistant. Let me tell you a bit about the story of how I got this job and became an animal lover.
I was born and raised in the country side, finished grade 12 then moved to Siem Reap city to find a job to support my mother and family. The first job I got was a security guard then I moved up to become a tuk tuk driver for almost 10 years. One day, I was taking a friend's pregnant dog that could not pass her babies to see a vet. That was Dr. Trish who own the practice where I work now. Back then, she had no assistant and I needed to help out with zero experience. The smell was terrible but I was OK. Afterwards, Dr Trish asked me to work as her assistant as I was so caring towards the dog and so willing to help her. I decide to work with her starting with zero experience and the only thing I bring in is hard work and loyalty. I didn't know how wonderful this opportunity was until I built up a lots of skills here. That was the time I started to understand how lovely and loyal animals are to us no matter what. They're always with you and will be your best friend.
To end, I would like to say thank you to everyone who works to serve the people and animals in your communities, and we are excited to continue working together in the same goal to keep making the world a little bit better, day by day.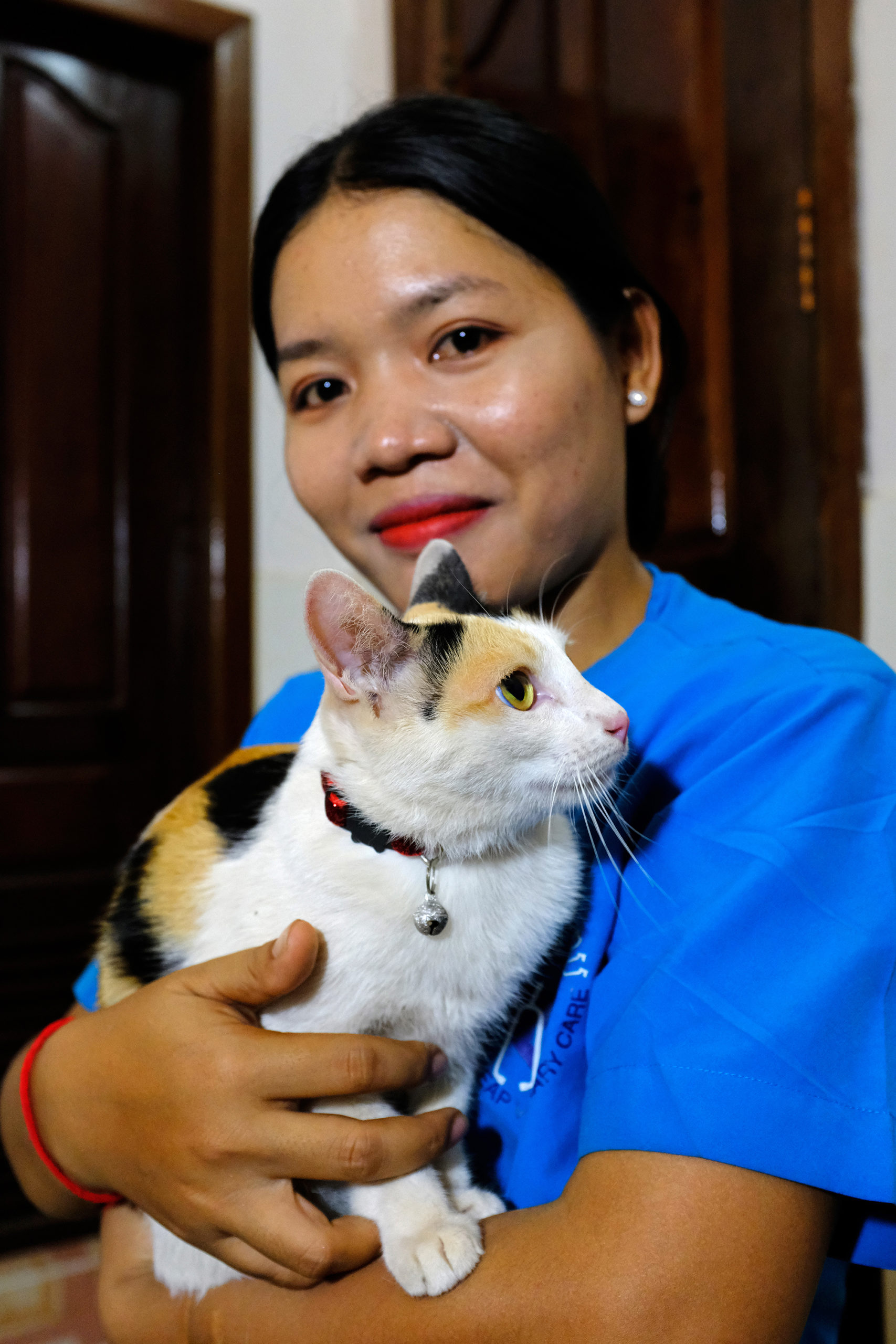 Phary
Receptionist / Office Assistant
Hello! My name is Phary and I am the receptionist. I greet you when you come in to the clinic with your animal. I love seeing animals and I am here to help you and them ❤️
Before working here I liked animals – my home has dogs, pigs, cows, and chickens.
Now I have a beautiful, tri-colour, female cat called "Pinkpink". I fell in love with her immediately. I just love her so much. I never met a cat who's like her. She is the best cat. She so nice with everyone. I wanted to be a good owner for her, as easy as possible for her. I love her, she loves me, and she is a good girl at home.
What I enjoy most with my cat:
– She wakes me up in the morning.
– She make every day so much better.
– She loves to play with me.
– She was 0.45 grams at that time, so she was small when I get her from the previous owner.
My favorite part about my job is the opportunity to work with my good colleagues. They are always super at working together with good daily communication. I am really happy to be learning new things.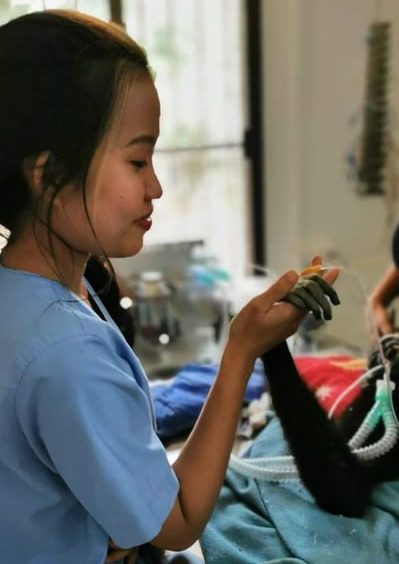 Kimlang
Vet Assistant
Hello I'm Kimlang. I am so happy to be a part of SRVC team which has been the best opportunity for me to learn more and get more experience. I love what I am doing right now – as a vet assistant my favourite part is that I love animals. I love to see all our animals happy and healthy


I have a cat. He's gentle and cute (he is kinda overweight now cos my mum is obsessed with feeding him Lol). About 6 months ago we found out he had stones inside his bladder then our surgeon did an operation immediately. He successfully recovered and is healthy and well.
I'm so proud to be a part of helping all our patients. Animals are a member of the family they deserve loving care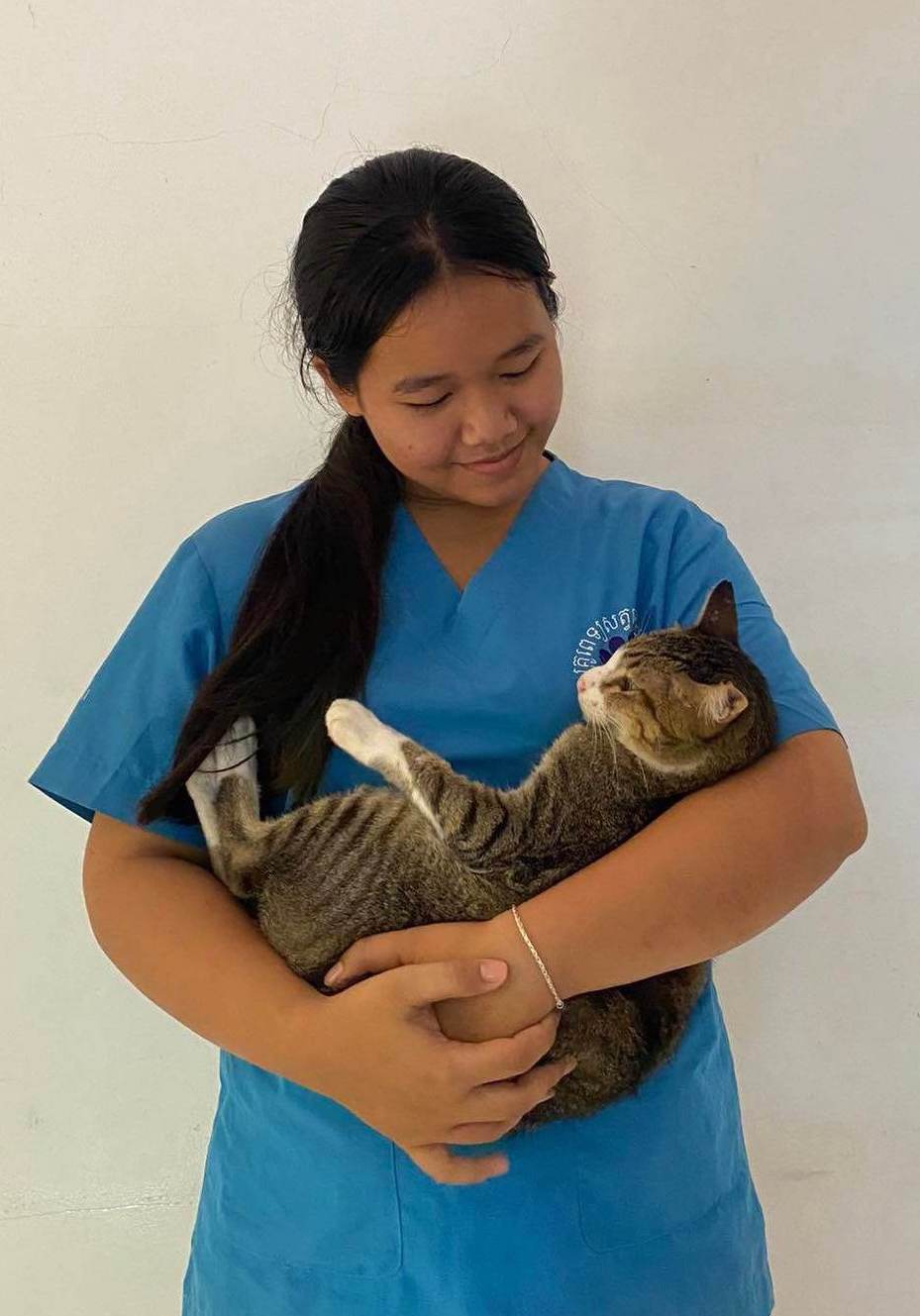 Vanntha
Cleaner / Kennel Assistant
Hello, I'm Vanntha. This is my first job after I finished high school. The thing that made me interested in this place is because they have animals. When I started my job for a few months I felt I love them more 💜
Before I work here (SRVC) I had two puppies. They are named Ah Pris and Ah Prus. I took them when they were young, just one month to stay with me. They were very young so I had to feed and take care them like baby 😁. Sadly one of them died. I was so sad to lose him 🥺. That why I interested in this place and I understand owner feeling.
Around my work place we have a street cat. He so friendly, gentle, very nice and cute. I really like him and I gave the name to him is "Boo Boo". But now he has FIV. I am treating him by giving medicine everyday.
I'm so grateful to be apart of SRVC team. I will try my best to help animals as much as I can and learning more about them 😘